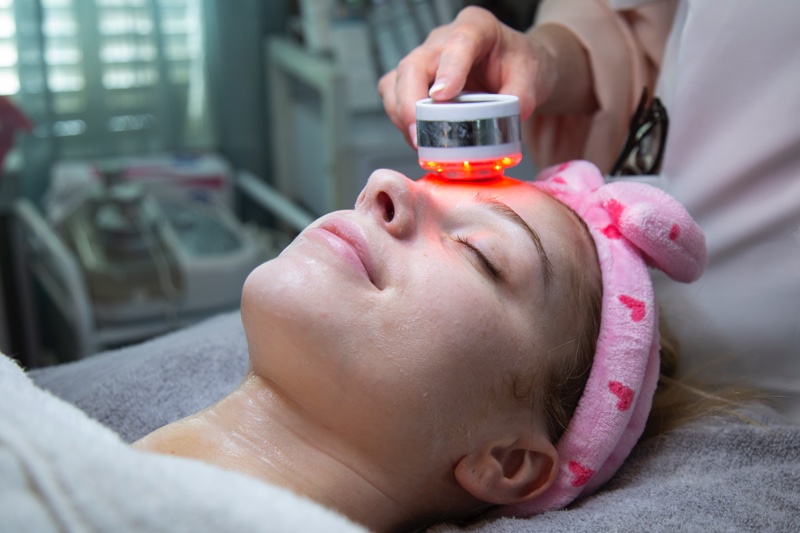 Anti-Aging Skin Rejuvination
Non Surgical Micro Current Facial Lifts
Ultra Sonic Facial Treatments
Micro-Dermabrasion
Dermal Skin cycling for Lines, Wrinkles, and Age Spots, Acne & Rosacea
Oxygen Skin Therapy
LED Light Therapy for skin rejuvenation and anti-aging
Brazilian and Body Waxing
Eye Brow and Eye Lash Tinting
Non-Surgical Microcurrent Facial Lifts
You can look years younger without going under the knife. The Non-Surgical Face Lift is the alternative to cosmetic surgery. It is safe, painless, and has no downtime.
The NSFL is a Micro-current skin care system, a non-invasive skin rejuvenation that lifts sagging muscles and re-educates the muscles giving a toning effect.
It increases collagen and elastin, increases oxygen and blood circulation, regenerates, sculpts, firms, deep cleanses, and detoxifies your skin.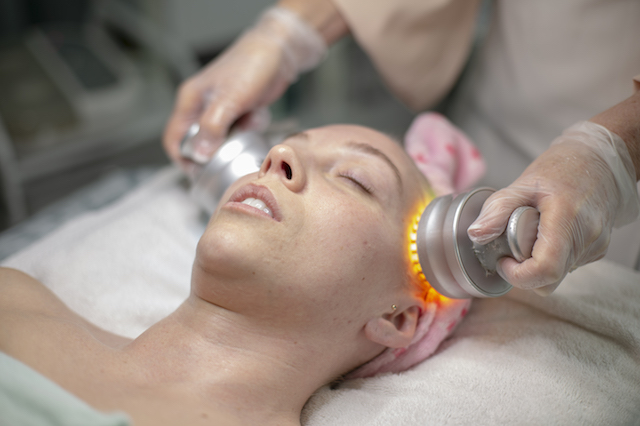 Ultrasonic Facial Treatment
The ultrasonic machine's high-frequency waves work to:
Exfoliate dead skin cells for clear and radiant skin without the redness and irritation that can sometimes result from Microdermabrasion or AHA peels.
Loosen and remove oil, dirt and sebum from the pores and hair follicles, resulting in less blackheads and breakouts. Ultrasonic frequency zaps bacteria and decongests the pores. The result? Clear, healthy skin with noticeably tighter pores.
Gently stimulates skin to encourage collagen and elastin production. With a series of treatments, fine lines and wrinkles are less noticeable and skin color, tone and texture becomes more even and uniform.
Stimulate blood flow and lymphatic drainage through the combination of ultrasound and electrical therapy. This nourishes the skin and gives it a youthful rosy glow.
Facilitate hydration and plump the skin, thereby filling out fine lines and wrinkles.
Helps skincare products do their job by penetrating deeper into the skin. This is especially true for anti-aging and antioxidant serums, creams and masks. Unless an active product is pushed deep into the lower levels of the epidermis, it won't have a lasting, anti-aging impact on the skin.
The ultrasonic facial is gentle, non-invasive suitable for most skin types, from acne to rosacea and sun-damaged skin. Because the ultrasonic mechanism is so effective at cleaning clogged pores, painful extractions are unnecessary. Your skin will have that lit-from-within glow - making it the perfect treatment to indulge in before a big event. Once your skin is rejuvenated and healthy looking, maintain your results with monthly ultrasonic facials.
Micro-Dermabrasion
Diamond Microdermabrasion helps break down the build-up of scar tissue and smooth it out. Scars are literally buffed out after a few treatments so the skin is flawless! There's no reason to live with acne scars, large pores, or stretch marks or deep lines.
Microdermabrasion is ideal for treating scars because there are no side effects, zero recovery time, and the treatments are painless.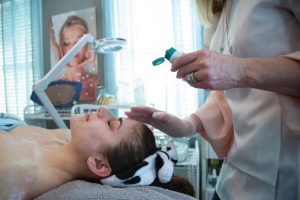 The Skin Renewal Studio uses crystal-free, Diamond Microdermabrasion equipment, which reduces the chances of internal pore issues and provides a cleaner and consistently superior result. With this treatment, dead skin cells are exfoliated and vacuumed off the face with a machine that uses microdermabrasion tips covered in tiny diamonds. This procedure doesn't cause any particles to be emitted that can get in the eyes or mouth, and is regarded as an especially safe form of treatment. Not only that, this procedure is known to be most effective on deep acne scars or old stretch marks.
Diamond Microdermabrasion is a non-surgical procedure that revitalizes dull skin, reduces large pores, erases fine lines and wrinkles, acne scars, and reduces hyper-pigmentation, stretch marks and age spots. There is no downtime associated with Microderm, it allows you to get back to your daily routine immediately after treatment. For best results, a series of 4-6 treatments is recommended.
The diamond tips together with the strong suction make it possible to exfoliate the skin more thoroughly than other procedures. With the flexibility of using different suction levels, it also increases blood flow to the skin, and that, in turn, helps to produce collagen. If you're looking for fast, reliable treatment for skin issues like wrinkles, fine lines, acne scars, uneven skin tone, and stretch marks, you can consider getting this procedure.
Dermaplaning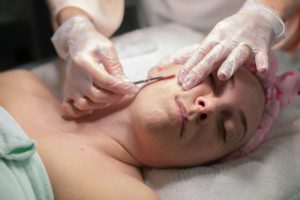 Dermaplaning is an effective and safe exfoliation procedure.  It uses a sterile surgical scalpel to shave the surface of the skin to remove excess dead skin and peach fuzz hairs. The tool is held at a 45 degree angle and is brushed along the skin to remove the hair and skin cells.  The procedure is only performed on the face and is not used for shaping the eyebrows, which the hair is much thicker. It is generally a stand alone procedure, but it does create deeper product penetration boosting the products effects. The procedure makes skin look and feel smoother and will reduces the appearance of acne scars.
What are the Benefits of Dermaplaning?
Provides deeper product penetration
Removes soft facial hair that traps dirt and oils
Promotes smoother skin
Safe procedure for removing dead skin cells and "peachfuzz"
Reduces the appearance of acne scars
Diminishes the look of fine lines
Works on all skin types
Instant results and no downtime
How Often is Dermaplaning Performed?
Dermaplaning is usually performed every three to four weeks.  It is good to have the skin complete its normal rejuvenation cycle, which is thirty days, before going back and having the treatment done.  The procedure generally will remove between two to three weeks of dead skin from the facial area.
People who suffer from acne or have excess oil should not have dermaplaning performed.  The reason why you want to avoid this procedure is because if the hair is removed from the area, the oils may cause bacteria growth which could lead to acne breakouts.
What to Expect After the Procedure
Sometimes after dermaplaning, the skin will end up peeling slightly.  This normally only happens when there is not enough time in between treatments to let the hair's growth cycle be completed. This is why it is important to leave enough time between visits to get the best results.
There is no need to worry about the hair on your face getting any darker. Since dermaplaning only targets the vellus hair (peachfuzz) the hair will grow back the same size and color.  It is physiologically impossible for the hair to grow back thicker and dark, so no need to panic and worry.
Never do this procedure at home. Leave it to the professionals at The Skin Renewal Studio.
LED Light Therapies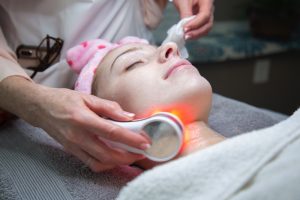 Dermacycling is protocol that involves the use of Micro-current and LED lights therapy coupled with topicals that have been specifically designed to increase your collagen and elastin levels, treat a wide range of dermatological conditions, such as acne, rosacea, blemishes, wrinkles, keratosis, age spots and skin rejuvenation.
LED Light has been proven scientifically to reduce:
lines and wrinkles - Red Light
scars - Yellow Light
hyper-pigmentation - Green Light
acne and rosacea - Blue Light
Dermacycling treatments include a thorough cleansing, double exfoliation, skin infusions specific to your skin's needs, and led light therapy targeted for your skin type. This treatment renders your skin luminous and youthful!
The Microcurrent allows us to do non-surgical face lifts that lift and tone the muscles of the face without surgery or pain!
New at The Skin Renewal Studio - Celluma (LED) Light Therapy
Acne • Anti-Aging • Pain
What is Light Therapy?
Light Emitting Diode (LED) phototherapy is the application of light energy to tissue to obtain therapeutic benefits.  The energy is used to improve cellular performance.  Phototherapy is known for its healing and anti-inflammatory properties and has a variety of applications across many medical fields.  Research has shown that phototherapy can: increase circulation, accelerate tissue repair, decrease wrinkles, decrease inflammation, improve skin tone, texture and clarity, ease muscle and joint pain, stiffness, spasm and arthritis and kill acne bacteria, and much more.
How Does Light Energy Work?
Specific wavelengths of light energy, when properly absorbed, up-regulates compromised cells. The light (photons) energy is absorbed by photoacceptors in the mitochondria and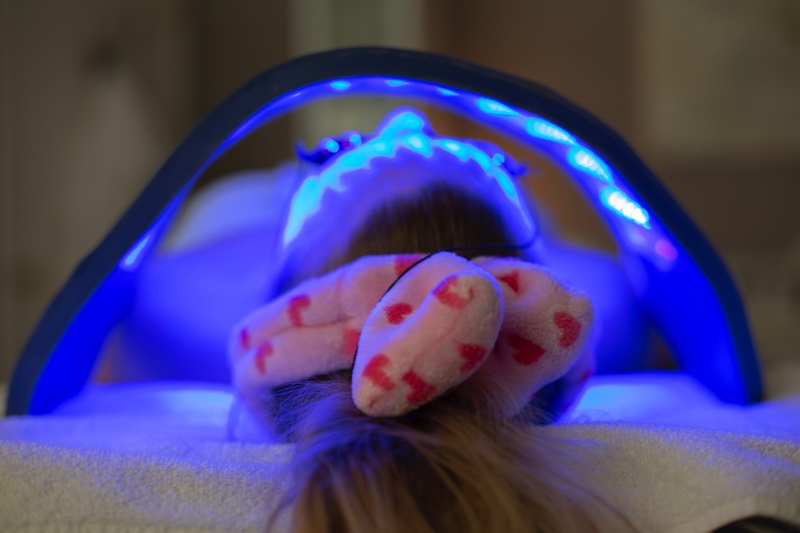 used to create adenosine triphosphate (ATP). The ATP produced then stimulates various metabolic processes which can result in the repair and regeneration of cell and tissue components. In an article, "Therapeutic Light" - by Chukuku S. Enwemeka, PT, PhD, FACSM, he wrote "other reported mechanisms of light-induced beneficial effects include modulation of prostaglandin levels, alteration of somatosensory evoked potential and nerve conduction velocity, and hyperemia of treated tissues. The resultant clinical benefits include pain relief in conditions such as carpal tunnel syndrome, bursitis, tendonitis, ankle sprain, and temporomandibular joint dysfunction, shoulder and neck pain, arthritis, and post-herpetic neuralgia, as well as tissue repair in cases of diabetic ulcer, venous ulcer, mouth ulcer, fractures, tendon rupture, ligamentous, tear, torn cartilage, and nerve injury."
What is Celluma?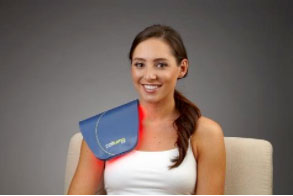 Celluma is unique and quite unlike any other low-level light therapy device available today. Based on NASA research, Celluma delivers blue, red and near-infrared light energy simultaneously to safely treat a wide variety of conditions. Each wavelength is absorbed by different molecules that act as a signaling mechanism for different cellular processes. For example, some reduce inflammation and some kill bacteria, while others enhance localized circulation.
See Celluma in the news, and on Rachel Ray's TV show.
Waxing - All Hair Removal
Why Is Brazilian Waxing So Popular?
Many just enjoy the clean feeling that comes with being hairless. Some who did it just to wear a bikini now keep it up because "It just feels and looks great"!
Tips on For Brazilian/ Hollywood Waxing
After underwear is removed the client is asked to clean area with a mild cleansing solution. A numbing cream and talc may be used depending on each client's needs.
Warm wax is then spread over all these areas and then pulled off with cotton strips. Maddy will minimize the number of repeat applications over the same spot. Those not so skilled will go over and over the same area thus prolonging the pain or discomfort.
The Skin Renewal Studio is hygienic and Maddy has been a licensed and trained aesthetician for over thirty years. Fresh bed covering is used for each client and that the waxing supplies are sanitized and disposed of in a hygienic way after use.
Make sure your appointment is at least one week after a period so the skin is not so sensitive.
Make sure the hair is trimmed to about 1/8th of an inch. It should be free from oils and lotion to make hair removal easier.
Don't rush the appointment. Allow plenty of time.
The pain can be reduced by using an antiseptic preparation in advance. Also, following up with a soothing lotion containing Aloe Vera or Calamine Lotion can reduce the itching and discomfort.